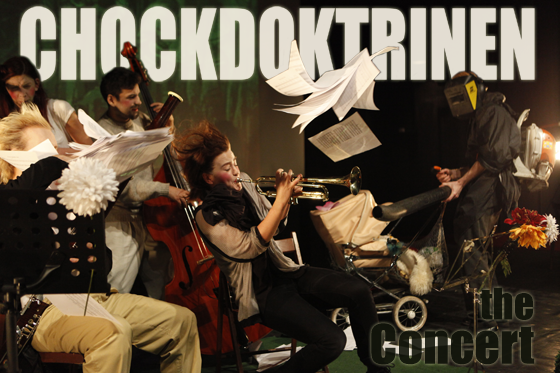 Photo: Jonas Jörneberg

A stage art show in a way you have never seen it before.

In 2007 Naomi Klein wrote the book the "Shock Doctrine" where she explores the irresistible idea to just swipe away everything that is considered obsolete, out of date and just start all over  from scratch.

Now it´s been brought to the stage, independently after the book in a totally genre killing stage art show. By an orchestra that mixes swing and bebop, via semi electrical voice collage to muzak, a grandiose concert will be given. A concert that could as well be dance, political theory, humor or  theatre. Chockdoktrinen creates musical tones of the latest news and it gives a physical body to the financial pages.

 

Behind this project stands two of the most interesting art creators that Stockholm holds, the artistic director of Turteatern Erik Holmström and Janne Tavares, the composer and conductor of Jannes fenomenala orkester. With them they have a most experienced ensemble of miming musicians, political dancers and actors who are hungry for blood.

It will be a stage art party where you as the audience is heavily involved.

 

Next summer we will occupy your festivals, your senses and your hearts. We will come with great visions and broken hearts that need to heal. We are hoping to meet bodies that likes to dance and souls that loves to laugh.